Lanier Ford receives BBB Torch Award for Ethics

On November 16, 2020, representatives of the Better Business Bureau (BBB) visited us to announce that the firm was the 2020 Winner, Better Business Bureau North Alabama's Torch Award for Ethics (mid-sized company).
Each year, the BBB presents Torch Awards to a small company, a mid-sized company, a large company, and a government contractor. With approximately 90 employees, Lanier Ford is in the mid-sized category.
To receive the award, companies must submit an application that addresses how ethics play a role in—
Business practices.
Customer and vendor relationships.
Employee relationships.
How its commitment to integrity has affected the relationships with peers and the community.
Here is the position statement that the firm submitted as part of its application for this award:
As the late Earl Warren, former Chief Justice of the United States Supreme Court, said, "In civilized life, law floats on a sea of ethics." At Lanier Ford, our legal practice not only floats on a sea of ethics, but it is grounded there too. Ethics are not something that are merely beneficial to "getting more business" — they are an essential part of how we interact with clients, vendors, the community, and each other.

In our line of work, integrity and ethics are a necessary requirement of our business. As a law firm, all our attorneys and staff must adhere to the Alabama Rules of Professional Conduct. Among many things, ethical lawyers must be competent and diligent. They must also keep client matters confidential and avoid conflicts of interest, which may not only involve simultaneously representing both parties in a current dispute, but also avoiding financial transactions with a client or representing a new client adverse to a previous client. They must be scrupulous in safekeeping a client's property and zealously advocating for clients without crossing any ethical bounds.

To us, ethics are reflected in each of our core values, our vision statement, and our mission statement.

Lanier Ford's core values are—

Excellence
Integrity
Collaboration
Inclusion
Reputation

Our Vision Statement: Lanier Ford is prepared to expand and meet the legal needs of an ever-changing market with strong collaboration, agility, and forward vision. As north Alabama's most talented, inclusive, and family-friendly law firm, we will continue serving our clients and the community with unwavering integrity.

Our Mission Statement: To carry forward as north Alabama's premier law firm through legal excellence.
Lanier Ford is an accredited BBB business.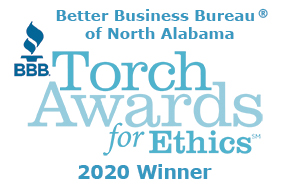 Published November 16, 2020
Items on this web page are general in nature. They cannot—and should not—replace consultation with a competent legal professional. Nothing on this web page should be considered rendering legal advice.