Lanier Ford is 35 years old
On August 1, 2023, Lanier Ford Shaver & Payne P.C. recognized the 35th anniversary of its founding. The firm was the result of a 1988 merger between two of Huntsville's oldest law firms.
At the time of the merger, the two firms were named—
Ford, Caldwell, Ford & Payne
With the merger, the firm became the 15th largest law firm in the state, and now usually ranks as the 13th or 14th largest from year to year.
Lanier, Shaver & Herring began in 1899 when Milton H. Lanier, Sr., began a solo practice. Ford, Caldwell, Ford & Payne began in 1915 when Earle R. Ford began practice in partnership with William H. Blanton. As separate entities, these two firms and their predecessors provided effective representation to their clients and were active leaders of the legal community in Madison County throughout the 20th century. During that time, the focus of the firms' practices were individuals, businesses, corporations, and government agencies.
John R. Wynn (left) and J. R. Brooks (right) discussing merger in 1988.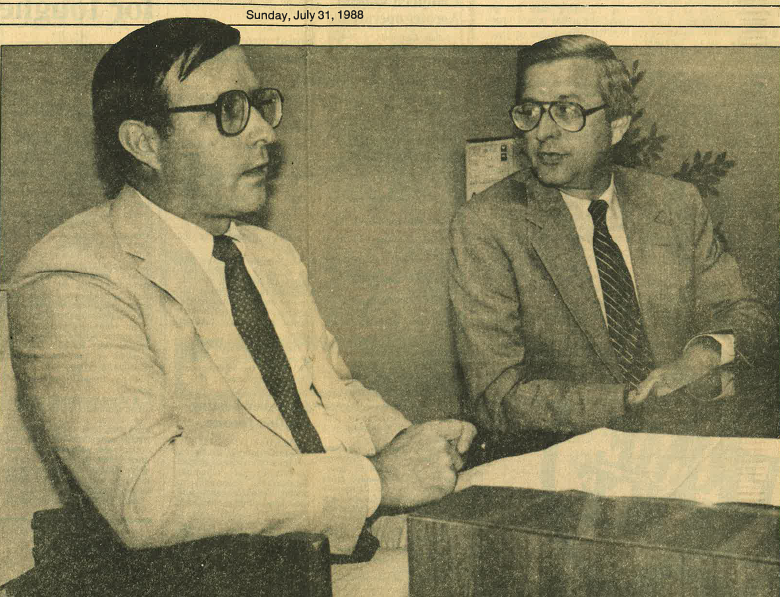 In the 21st century and its 35th year, Lanier Ford is known as a full-service law firm and still focuses its practice on the same key groups: individuals, businesses, corporations, and government agencies. Lanier Ford attorneys assist the residents of north Alabama in setting up their businesses, protecting their intellectual property, establishing comprehensive employee benefit plans, and financing their startups or expansions.
The firm's real-estate department is a leader in Madison County real estate development. In addition to development projects, the firm's real estate lawyers regularly assist businesses with facility acquisitions and leases. And it's not unusual for the real estate department to conduct numerous residential sales closings in a single day.
On behalf of businesses, the firm's litigators help enforce contracts and, when necessary, defend businesses against workers' compensa­tion claims, employment discrimination, products liability, and numerous other business-related disputes. On behalf of local governments, law enforcement agencies, and school systems, the firm's litigators defend against the claims of liability unique to government entities.
The firm's litigators are recognized on a state-wide level for defending professionals (doctors, nurses, dentists, engineers, accountants, and so forth) against negligence claims.
When a business matures, the firm helps business owners find the right financial sponsor to take the business to the next level or guides them through the sales process or transfer of ownership to the business owner's next generation. For each business transaction, the firm's business attorneys advise business owners of tax consequences and provide advice about avoiding other risks.
With attorneys recognized throughout Alabama, the Huntsville-based law firm of Lanier Ford provides the sophisticated advice and advocacy expected of a much larger firm with the personal attention and responsiveness of a smaller firm.
We are so proud to have 6 of the original attorneys still practicing with the firm since the merger (Elizabeth W. Abel, J. R. Brooks, Y. Albert Moore III, William W. Sanderson Jr., D. Edward Starnes III, John R. Wynn) who chose to spend the past 35 years, and for some their entire careers, with Lanier Ford. We look forward to ensuring that the firm remains a great place to work, and that we continue to provide superb service to our clients for the next 35 years and onward.
Attorneys Related to this News Item
Items on this web page are general in nature. They cannot—and should not—replace consultation with a competent legal professional. Nothing on this web page should be considered rendering legal advice.